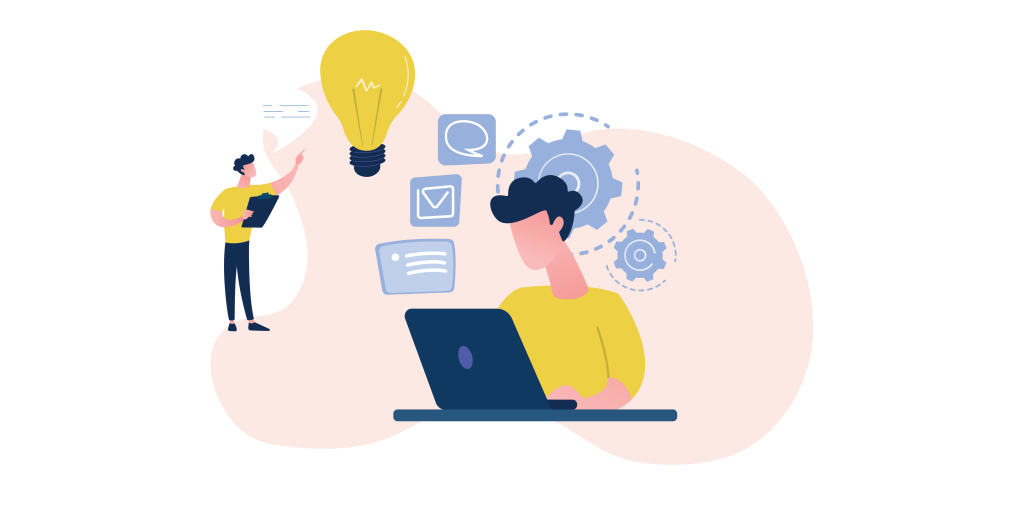 "Build a team that can respond to whatever challenge is thrown at them, and you'll be well-placed to weather any industry disruption."


In the wake of the COVID-19 pandemic, organisations are fundamentally rethinking their people strategy: whether that's freezing hiring, standing down their workforce, redeploying staff or hiring to fill critical skill gaps. In this uncertain, rapidly changing landscape, internal mobility takes center stage.
Internal mobility allows you to build a clear view of key skills in your organisation, then establish internal pipelines of talent that can be deployed as needed to respond to shifts in the market. It also allows you to keep valuable employees working, rather than standing them down.
To survive these challenging times, organisations need to be fast, agile, and mobile. Internal mobility arms HR teams with the tools to respond to this challenge, leverage the skills at their disposal (without having to spend time and money on recruitment) and quickly respond to change.
Organisations are using talent mobility to survive this crisis
Many organisations are finding they need to redeploy people (to avoid having to stand them down) in response to the COVID-19 crisis. Internal mobility plays a key role by giving HR teams a complete picture of their existing talent so they can understand what skill sets are available in order to pivot and become dynamic.
Internal mobility provides a timely picture of employees' aspirations and skillsets. Things like internal expression of interest forms and employee profiles help to build a comprehensive picture of the workforce to manage redeployment.
Not all industries are freezing hiring and standing-down workforces. Some companies are turning to redeployment to fill critical skill gaps in the wake of unprecedented demand. Supermarket retailers, for instance, are hiring hundreds of thousands of new staff to cater to demand from shoppers, while healthcare providers are ramping-up hiring to staff hospitals with much-needed healthcare workers. Call centers are bringing on more people as customer enquiries rise and hotlines ring around the clock.
Internal mobility has a symbiotic relationship with hiring: and it can be a coordinated effort between multiple organisations. Right now, there is more cross-organisational mobility than ever before.
How organisations treat their workforce during this pandemic will impact their employer brand for years to come. Savvy organisations are thinking about skillsets in the business that could be impacted and using internal mobility to keep these people working.
The way employees work across teams, borders and now even companies has evolved since the start of the century. In the wake of COVID-19, it will continue to do so at an accelerated pace.
The implications that COVID-19 will have on a global workforce demonstrates the need for organisations to be adaptable, agile and accustomed to flexible ways of working. But it's not just COVID-19 that's necessitating the switch to increased internal mobility. Underlying this all is a skills shortage that's growing more serious by the year.
Fighting a looming skills shortage
Although these unprecedented times are resulting in major shifts in the employment market, one thing remains the same: there is and will continue to be a skills shortage. Even with higher unemployment deepening the pool of available talent, this doesn't necessarily mean the talent with the skills you're looking for will be available.With many organisations slowing down or freezing hiring right now, critical skills gaps still exist. How will organisations fill these roles?
In a McKinsey Global Survey on future workforce needs, nearly 9 in 10 executives say their organisations either face skill gaps already or expect gaps to develop within the next five years.
Although most say their organisations consider it a priority to address skill shortages, few say their organisations understand how to find the workforce skills they will need most. In fact, according to recent research from McKinsey, only one-third of executives say their companies are prepared to cope with the workforce disruptions resulting from technology and market trends. In light of COVID-19, these numbers will likely fall even further.
How will you equip your organisation with the workforce you need for the future – especially if you're not hiring right now? Look to your greatest source of talent: internal mobility.
The highest-performing companies are reskilling their existing workforce and leveraging internal mobility to address talent shortages and skills gaps. It's why internal mobility is a crucial part of any savvy recruiter's strategic toolkit. Instead of relying solely on acquisition alone, recruiters should strategically look both outside and within the organisation to fill roles.
To make a start, recruiters should split their time between EVP and attracting passive candidates, and focus on developing internal mobility and career paths. Not only will you save money on external recruitment costs, you'll also reduce turnover when you give internal talent the opportunity to grow and develop. In every organisation there are great untapped resources; if you're not developing them and giving them opportunities to grow, they will leave – and you'll lose your best talent.
Take the below chart as an example: have you ever had a similar scenario unfold?


It doesn't have to be this way. By investing in developing your existing people through internal mobility, you're investing back in your organisation. Your top performers stick around for longer, your employer brand is defined by development opportunities, and you'll create a culture that attracts motivated, engaged people who are seeking opportunities to grow.
In Bersin's 2018 Talent Acquisition industry study, 3 out of 4 of the leading talent acquisition teams tapped into internal talent pools, compared with roughly one in 10 low-performing teams. These high-performing talent acquisition teams are five times more likely to offer a strategic approach to internal mobility.
All evidence suggests internal mobility is a vital tool to keep the best employees in your organisation. As researchers at McKinsey observe, "A 21st-century company should put as much effort into developing its talented employees as it puts into recruiting them."
The business case for internal mobility
Internal mobility is a critical HR strategy, but other decision-makers in the business may not be aware of its benefits. How can you build the business case for internal mobility and convince C-suite leaders to invest in an internal mobility program?
So far we've talked about how internal mobility improves employer brand, keeps the best people inside your organisation, and helps recruiters be more strategic. But how does that relate in hard numbers to bottom line savings? In the following 4 ways:
Avoid recruitment costs by looking within
Avoid the cost of turnover by choosing someone already aligned with your culture
Improves employer brand so you can cut advertising costs
Avoid the 'doom loop' (more on this later)
The business opportunity with internal mobility is clear. First, you can avoid replacement and recruitment costs incurred when people leave – an especially attractive proposition considering many organisations are currently slowing down or freezing hiring. Second, you can reshape your employment brand and workplace culture to attract more of the right-fit candidates – making recruitment faster, more effective, and less expensive. And most importantly, you can avoid the "doom loop".
Let's explore further:
Internal mobility by the numbers



1. Avoid recruitment costs by looking within
Though most companies spend only 6 percent of their recruitment budgets on internal candidates, these candidates fill 14 percent of job openings.
Internal mobility is a cost-effective way to find candidates, and bypasses the costs of onboarding, training, and other upfront expenses associated with external hiring.
2. Avoid the cost of turnover by choosing someone already aligned with your culture
New hire turnover is a major issue for organisations. Up to 20% of employee turnoverhappens in the first 45 days of a job. When you already know an internal candidate, there's less chance you'll choose someone who isn't the right fit, less chance they'll leave, and less chance you'll have to start the hiring process all over again.
Whose resume would you trust more: an external candidate or an internal candidate? The internal candidate has a demonstrated work history, performance reviews, and alignment with your organisation's culture. The external candidate is an unknown.
According to research by Harvard Business Review, it can take an outside hire 3 years to perform as wellas an internal hire in the same role – even though it takes 7 years for an internal hire to earn as much as an outside hire.
According to Deloitte research, organisations that promoted internally are 32% more likely to be satisfiedwith the quality of their new hires.
It typically takes 2 yearsfor the performance reviews of an external hire to reach the same level as those of an internal hire.
Compared with internal hires in similar positions, external hires are 61% more likelyto be laid off or fired in their first year of service and 21% more likely to leave.
3. Improves employer brand so you can cut recruitment advertising costs
As we touched on before, internal mobility improves retention and employer brand, which attracts more of the right talent to your organisation.
Surveys show that all workers, especially millennials expect the opportunity to grow within an organisation. Without this, they'll likely look elsewhere.
On-the-job development opportunities such as lateral moves and stretch assignments can increase engagement by up to 30%.
People want to grow and build their careers rapidly. Internal mobility provides those opportunities, which keeps talent engaged and stops them from leaving. It's a powerful employer brand magnet: jobseekers view your organisation as one that prioritises growth and development opportunities.
According to Deloitte research, at many low-performing organisations, talent and strategy are seen as separate channels.
At many high-performing organisations, recruitment and retention and internal mobility are linked. These organisations go out of their way to create employee experiences that encourage growth, learning, engagement, and communication by coaching and developing employees and creating cross-functional training opportunities – and that's reflected in their employer brand.
4. Avoid the doom loop



We've talked a lot about the cost-saving potential of internal mobility – better fit hires, high performers, and an improved employer brand. But what about the cost of not having an internal mobility program?
Heavy turnover can significantly impact the company's employment brand. Call it the doom loop: There's no implied loyalty between employees and employers, so employers don't want to invest in learning and development programs. Because there are no development programs, employees don't have the skills to be considered for promotion—and there's no internal mobility. Faced with a lack of growth options, the best employees keep leaving, damaging the organisation's employer brand. This doesn't have to happen!
5. Implementing a successful internal mobility program
So how do you establish an internal mobility program that works? Let's cover the building blocks of a successful internal mobility program.
Champion internal mobility at the highest level
Many organisations struggle with an internal resistance to internal mobility. Some even have a culture of 'talent hoarding' where managers are reluctant to give up their best talent – and hiring managers are actively discouraged from 'poaching' top performers.
To overcome this internal resistance, internal mobility needs to be championed at the highest level, and baked into the culture of the organisation. This will only work if you have buy-in from leaders.
Shift mindset
Organisations need to think about internal talent as a long-term investment. This requires leaders to realise that losing an employee comes at a significant cost to the company: the loss of institutional knowledge, client relationships, and productivity alone is a huge loss, not to mention the costs of recruiting and training a replacement. If that valued team member was in a revenue-generating position, the cost of them leaving increases even more.
Encourage career 'storytelling'
Career storytelling champions those who have climbed the career ladder, and gives people a narrative they can model their own careers on. In turn, this gives recruiters a pre-made pipeline of talent.
To inspire others to follow in their footsteps, business leaders need to make their career stories known. Some organisations hold 'Town Hall'-style interviews with leaders in the business, to make them accessible to everyone in the organisation. Organisations like Deloitte prominently post the career journeys of their staff on their career site.
Mentor programs are another great way to promote inter-organisational opportunities and increase collaboration and visibility of skills within the business.
In these uncertain times, internal mobility is a key strategy to future-proof your workforce. Whatever the future may hold, people are still an organisation's greatest asset. With many organisations slowing down their recruitment, hiring teams need to learn to leverage and develop the talent that already exists in their teams. The organisations that can do this successfully will be well-placed to weather whatever challenges come their way.